May's Christmas Wish List...2013!
A
s we run towards the
end of 2013
and welcome
Christmas
on this rather cold winter day, my thoughts have started wandering towards the year ahead. This not only means adding to my Qipao (Cheongsam) collection for Chinese New Year....in this particular instance, it also dawned on me that I should make a list of dreamy goals as well as things to look forward to in
2014
, because one of my girlies suggested that we take a trip to the seaside to make a wish in the new year. Never really been one to create a long list of resolutions and rarely ever making a wish list on my blog, I have been inspired to do a bit more this time. And what better way for a little shopaholic like me to become more positive about the year ahead but through a
special Christmas Wish List
of things I have fallen in love with and will want to get....if the penny saving plan permits in the coming year that is! So here are the
13 items
(since Walking In May's blog anniversary is on 13th December and it is still 2013) on my Christmas Wish List (in
no
particular order):
1. Wool Qipao (Cheongsam - Chinese Evening Dress)
by Cozy Lady Wear (Online Shop)
Link:
www.cozyladywear.com/wool-qipao-cheongsam-winter
Wool Qipao (Cheongsam) for winter by Cozy Lady Wear
With the current windy winter chills and remembering February frosty moment in London, I would love an ultra warm
wool
Qipao that is both stylishly chic and utterly unfussy. Though I would probably style this piece differently...and the old dear in me may be nodding towards a pair of cosy tights. It will be brilliant for practical day to day life as well as glamorous occasions....which also means staying warm whilst looking glamorous!
2. Li Cheongsam
by Lady General (E-store)
Link:
www.theladygeneral.com/li
Since discovering the
Lady General
, a new online store specialising in Qipao or Cheongsam with unique designs...I have fallen in love with quite a few of their pieces! One in particular is the gorgeous
Li Cheongsam
, which has a full vintage
50s style
midi length circle skirt with a clean cut mandarin collar, lovely navy sheen to the purple fabric and sash to take in the waistline. What is especially creative about this Cheongsam is how they have managed to make the usual darting in the midriff a pretty design feature....now how can you not love the beautiful Li!
3. Velvet Cheongsam Dress
by Tara Starlet (Online Shop)
Link:
www.tarastarlet.com/velvet-cheongsam-dress
Velvet Cheongsam Dress by Tara Starlet
Must admit that I am yet to have a red Cheongsam (Qipao) in my collection, as being the traditional Chinese bridal and celebratory colour has made me approach it with some caution, but the simple cutting and rather
Westernised
peek-a-boo detail has taken the edge off a traditional feel. In fact it feels more like a sociable Christmas party dress that is both fun and glamorous...of course also warm enough for winter with the soft velvet material.
4. Pin Up Double Lilac Orchid Hair Flower
by Sophisticated Lady Accessories (Etsy)
Link:
www.etsy.com/pin-up-double-lilac-orchid-hair-flower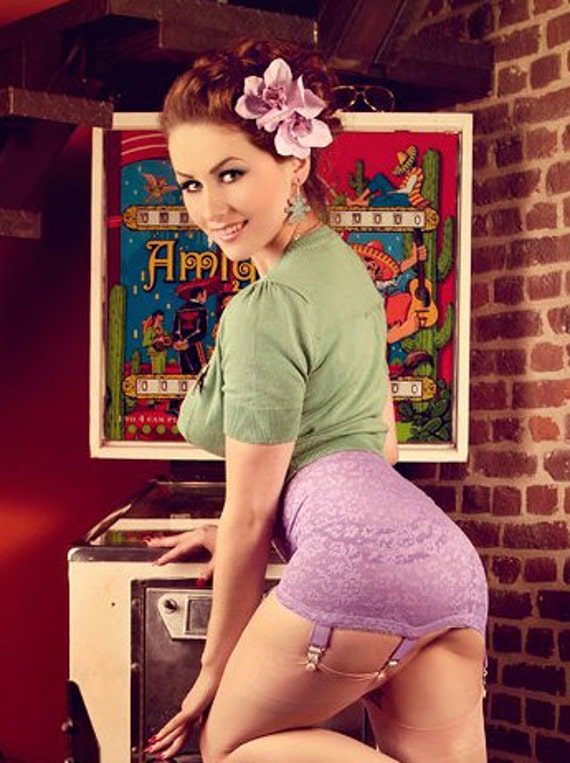 Pin Up Double Lilac Orchid Hair Flower by Sophisticated Lady Accessories
Photo: Damona Art & Model: Acid Doll
One of the nicest things about vintage style has to be the prettiness of flowers. More often than not, you might find flowers printed on a beautiful dress or be able to match a vintage hairstyle with fabric flower clips...which I saw quite a lot of at the Chap's ball. So I just need some lovely lilac orchids to add to my collection!
5. Amber Crystal Honey Bee Jewel Vintage Style Earrings
by Red Truck Designs (Etsy)
Link:
www.etsy.com/amber-crystal-honey-bee-jewel-vintage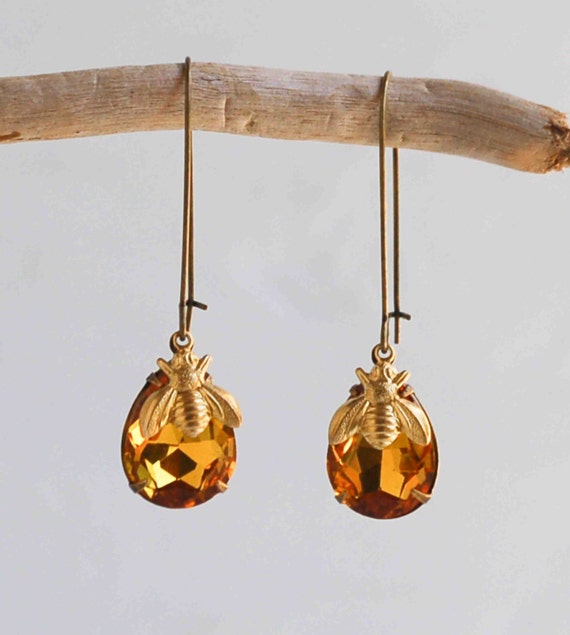 Amber Crystal Honey Bee Jewel Vintage Style Earrings by Red Truck Designs
Aren't these honey bee earrings just the darling? Ever so pretty, and they somehow remind me of the famed
Egyptian trend in the 1920s
....which I think will be just perfect with a vintage styled 1920s to 1930s elegant evening dress.
6. Delicious Apple Bag
by Ollie & Nic
Link:
www.ollieandnic.com/delicious-apple-bag
Delicious Apple Bag by Ollie & Nic
Now this
Delicious Apple Bag
is almost crunchy enough to eat....with pretty rattan-like detail that can inspire a
Tiki
dream. More importantly it is so cutely kitsch that it should match any floral
50s
full skirted day dress perfectly, and even the (above)
Li Cheongsam
!
7. Winter Cotton Long Cheongsam
by Momo/Rock Roll Refresh (Etsy)
Link:
www.etsy.com/winter-sleeve-cotton-long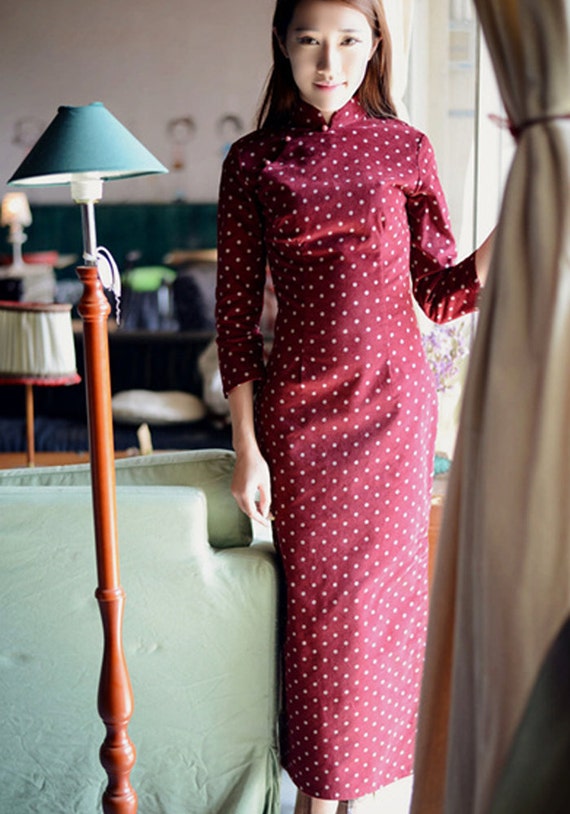 Winter Cotton Long Cheongsam in red polka-dots by Rock Roll Refresh
As you darlings may know, I have love the Qipao quite furiously but there are still days when I wish I could don a simple one and not need to schedule a hand washing day. So this cute red polka-dot cotton long length Cheongsam is just the ticket, especially for winter warmth, and much more washing machine friendly on a handwash cycle than luxurious silks or brocade.....which could end up as a wardrobe staple amongst my Qipao collection!
8. Pearl Art Deco Muti-strand Vintage Style Necklace
by Vinstyle Designs (Etsy)
Link:
www.etsy.com/pearl-necklace-pearl-choker-rhinestone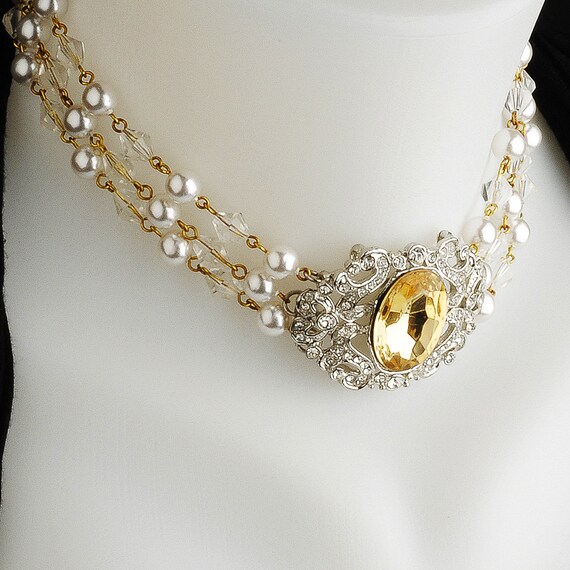 Pearl Art Deco Multi-strand Vintage Style Necklace by Vinstyle Designs
Being a fan of pearls and often matching them to a vintage inspire look, I was really caught with a moment of thought when I saw this listing for a
Art Deco inspired
pearl necklace.....which dress shall I match it with now? So this could very well be an investment piece that goes with even a Downton Abbey inspired outfit!
9. Violet Romance Classic Cheongsam
by Sissae (Online Shop)
Link:
www.sissae.com/violet-romance
Violet Romance Classic Cheongsam by Sissae
I have found the
1960s
beehive actually to be a practical vintage hairstyle to wear and must admit I have quite a few A-lined shift dresses above the knee....though not as mini as it used to be, in order to cover some modesty as I age. But I am yet to have a
60s inspired
violet romance Cheongsam
in such glorious embroidered detail of a shiny taffeta silk background.....oh, Santa baby!
10. Silk Classic Cheongsam
by Missey Pixie Boutique (Online Shop)
Link:
www.misseypixie.com/silk-classic-cheongsam
Silk Classic Cheongsam by Missey Pixie Boutique
Seeing the floral print of this green
silk Cheongsam
made me think of a beautiful vintage curtain my grandmother could have had...or one print that I would like to keep in any form, so more the better it happens to appear as my favourite type of dress. This would make the prettiest addition for a spring Qipao....pretty piece!
11. Oriental Pink Peony Hair Comb
by Mindangel (Etsy)
Link:
www.etsy.com/oriental-pink-peony-hair-comb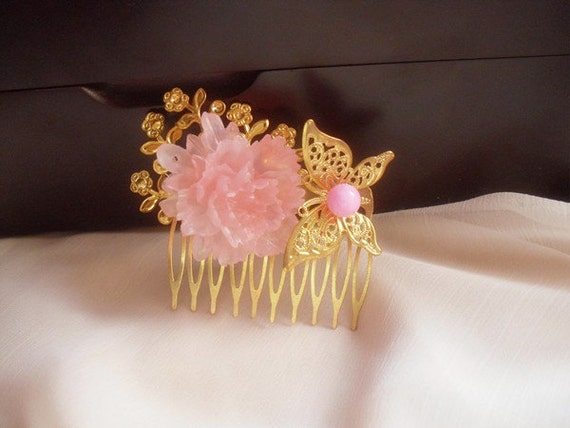 Oriental Pink Peony Hair Comb by Mindangel
I absolutely love this
Oriental Pink Peony Hair Comb
.....not only is it a very pretty pink, the peony flower and chasing butterfly is just the perfect match to many a Qipao or Cheongsam! Traditionally
peonies
represent nobility, flourishing fortunes and good luck....whilst
butterflies
are often linked to love and happiness, so they are often embroidered on to Chinese dresses as a way of symbolism. And of course....I just happen have the perfect peony embroidered Qipao to go with this dress!
12. Vintage 60s Blue & Yellow Cheongsam
by Starving Dog Vintage (Etsy)
Link:
www.etsy.com/vtg-60s-blue-and-yellow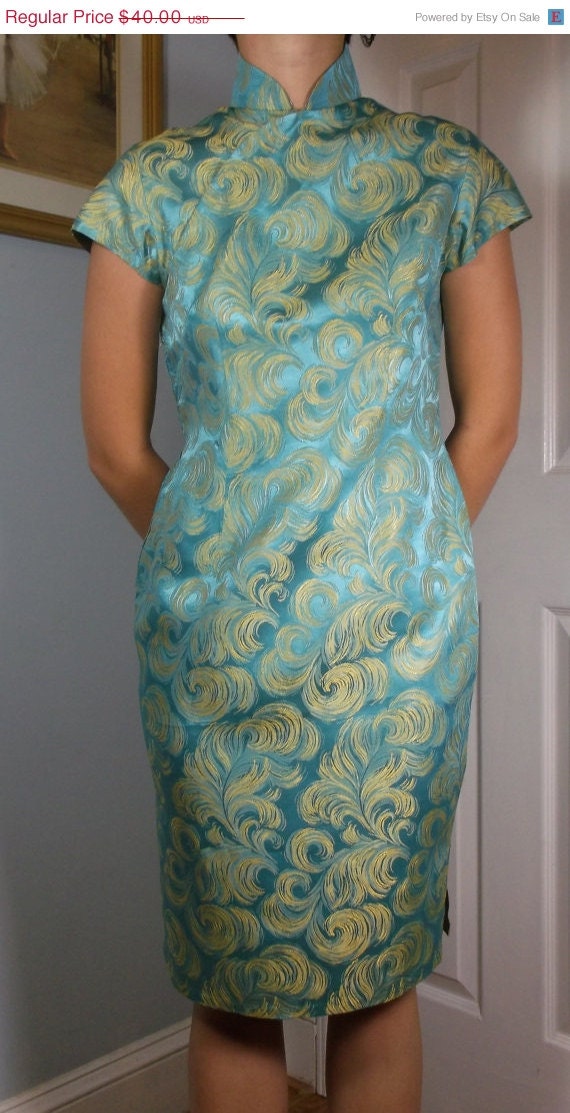 Vintage 60s Blue & Yellow Cheongsam by Starving Dog Vintage
Having seen my recent photoshoot with Caroline, and the 70s Qipao, you can probably guess my thoughts. Yes my darlings, I would also love to get my hands on this
1960s handmade Cheongsam
found on Etsy....to start altering it to fit me! As the stunning yellow swirls on the shiny sky blue background is just mesmerising and with the right fitting, I could imagine a 'Mad Men' party ahead.
13. Connie Patent Bag
by Collectif
Link:
www.collectif.co.uk/patent-connie-patent-bag
Connie Patent Bag by Collectif
The glorious red on
Collectif's
Connie Patent Bag
is just a siren for arm candy.....and the gold rose looking kiss lock clasp seems to be beckoning me to adopt it sooner rather than later. And so far, I must say I don't have a vintage styled red patent handbag!
~ ~ ~ ~ ~ ~ ~ ~ ~ ~ ~ ~ ~
Well...that's my
lucky 13 Christmas Wish List
, and you darlings might have caught on to a pattern or two....yes, my love for the
Qipao (Cheongsam)
as
Chinese New Year
is a little more than a month away, the festive Christmassy red and staying warm from the recent cold London weather! As those who are lovers of this Chinese dress might know that it was once typical to have Qipao (Cheongsam) made in different materials depending on the weather. Wool, velvet, padded cotton or flocked linen are all practical choices for
winter Qipao
, especially when longer sleeves or midi-like ankle length is added to the dress. As it is indeed Christmas day....here's wishing all you lovely darling readers a very very
Merry Christmas!
PS: Don't forget today is the
final day
to enter the 1920s inspired Great Gatsby
GIVEAWAY!
[
here
]
♥ Follow 'Walking In May' by: